BAL Ravens (6-2) vs NE Patriots (3-5)
A game that was once a NFL Scheduler's wet dream is looking a lot more like an afterthought as Sunday's Primetime game, but don't worry because there is still money to be made. The Patriots are coming into this game off of a close win on Monday Night Football against the 0-8 Jets while the Ravens are coming off a convincing win against the 5-3 Colts. From the most recent weather reports, we are expecting it to be cold and damp, but there's no reason to believe that weather will have an effect on the game. As I'm writing this, the Ravens are 7 point favorites with a 43.5 game total. I won't waste too much more of your time. Here are my favorite props for the game: 
Ravens -7 (-110)
I'm normally not too focused on the actual game lines themselves, but this one sticks out to me. If there's one thing we know about the Ravens, it's that they're good at beating up on bad teams and unfortunately for Patriots fans, they are one of those bad teams this year. So far, the Ravens have double digit wins in 6/8 of their games this year including the Texans, Colts, Eagles, Browns, and Bengals. This is a team with a very strong defense and a controlling offense that dominates teams on the ground. Teams that are most threatening to the Ravens are teams that can score quickly and force Lamar Jackson to throw the ball a lot. The Patriots aren't one of those teams.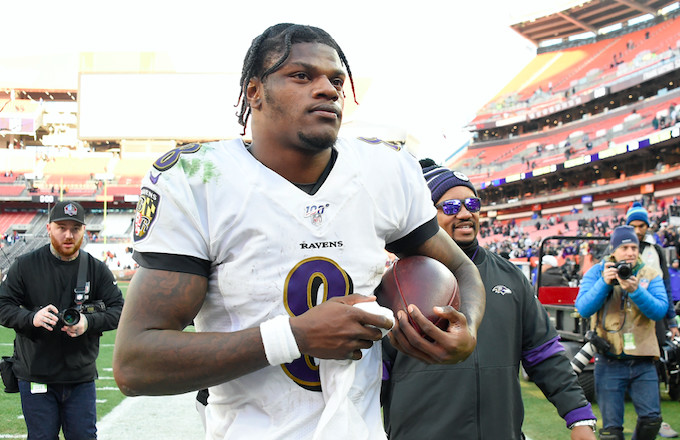 Lamar Jackson Over 52.5 Rush Yards (-112) + Anytime TD (+145) 
Lamar Jackson has been the most effective rushing QB since his breakthrough in the NFL. So far this season Lamar averages 58.6 rushing yards per game including a blowout against the Bengals where he only rushed for 3 yards. Recently there has been a lot of criticism around his play but the fact is he is the offensive heart of this team and if you believe that they are gonna win this game its gonna be on his back. . As for the TD prop at +140 Lamar has scored rushing TD's in 3 of the last 5 games and his redzone dual-threat ability is enough to scare any team. Obviously there is more risk in the TD prop due to the triple headed beast that is the Ravens backfield, but I'm confident Lamar ends up in the endzone.  
Cam Newton u197.5 Passing Yards (-114)
Cam Newton has only hit this number twice this year, last week against the 0-8 Jets and in week 2 against the bottom of the barrel Seahawks defense. This play is interesting because you would think that if they are trailing they would be throwing the ball a lot but frankly it seems like the New England offense buckles playing hard defenses like the Ravens. The Patriots are gonna attempt to take control of the game on the ground with a mixture of Harris, Burkhead, and even Cam but I'm unsure if that approach will work either. Overall I think this play will come down to the wire and Cam can definitely hit this number so play with caution. 
Player to Stay Away From: N'Keal Harry
After being injured for the last couple weeks the Patriots are expected to have their second year wide receiver suite up against the Ravens. N'Keal was a first round selection going above other notable wide receivers like DK Metcalf, AJ Brown, and Terry McLaurin, but has been inconsistent in his playtime due to injury. Normally with young talented receivers like N'Keal you hope to hear chatter from the teams with supportive messaging and positive reinforcement, unfortunately since training camp of this year all we have heard is his struggles getting separation and staying healthy. Whether you are talking about your fantasy team, DFS showdown events, or the prop market, I'm advising you to fade N'Keal Harry. 
*Betting lines are taken from DraftKings and FanDuel*
Processing…
Success! You're on the list.
Whoops! There was an error and we couldn't process your subscription. Please reload the page and try again.